The Supreme Court has granted the petition in Gobeille v. Liberty Mutual Insurance Company, a case centered on the issue of whether the Employee Retirement Income Security Act of 1974 (ERISA) preempts Vermont's health care database law as it was applied to a third-party administrator for a self-funded ERISA plan. Vermont requires health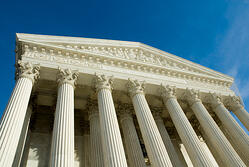 care providers and payers to provide claims data and information to a state health care database, which informs the state on health care policy. The Second Circuit held that ERISA concerns were intruded on by the state's recordkeeping requirements. The Second Circuit held that under ERISA only a "slight reporting burden" is permissible, and the Vermont requirements were burdensome and time-consuming.
The Court will likely hear oral arguments on the case (or in the alternative, rely on briefings only), and render a decision in the October 2015 term, which will end in early summer 2016.
The Supreme Court will also rule in Montanile v. Board of Trustees of the National Elevator Industry Health Benefit Plan on whether or not a lawsuit by an ERISA fiduciary against a participant to recover an alleged overpayment seeks "equitable relief" within the meaning of ERISA if the fiduciary has not identified a fund that is in the participant's possession and control at the time the fiduciary asserts its claims.
The Supreme Court has asked the Solicitor General to file a brief expressing the views of the United States in a third case involving ERISA: Smith v. Aegon Companies Pension Plan, which is a case involving ERISA's venue provisions, as it relates to litigation.
Another case relating to reporting, payment, recordkeeping, and audit requirements on ERISA plan administrators is on a "petition watch list" and was distributed for conference on June 25, 2015. The case Self-Insurance Institute of America, Inc. v. Snyder rose out of the 6th Circuit and asks questions regarding ERISA preemption and whether it encompasses preemption against new state laws that "seek to exploit the core functions of ERISA plan administrators." Whether or not the Supreme Court will decide to grant the petition remains to be seen.
For information on other recent Supreme Court cases, view UBA's free ACA Advisors "U.S. Supreme Court Upholds PPACA Subsidy Eligibility on Federal Exchanges" and "U.S. Supreme Court Finds Same Sex Marriage Is Protected by the 14th Amendment".