I recently read an article on what some say is the conventional wisdom of healthcare costs in the United States which, as a percent of gross domestic product, are higher than most other countries. The article works to demonstrate that the reason for the higher than average cost and the lack of "better" health outcomes in light of significantly higher spending is attributable to non-healthcare issues such as lack of access, especially for the poor. With the drive of healthcare reform to make sure the U.S. population is insured and address the shortage of primary care physicians increasing as high as 31,000 ("Physician Supply and Demand Through 2025: Key Findings," Association of American Medical Colleges, April 1, 2015), where will people receive their primary care, and at what cost? What if there were a more efficient and cost effective way to deliver care to populations that lack access or don't have the ability to easily access care.
Here are some data points to set the stage:
Enter community paramedicine. According to the California Emergency Medical Services Authority, "Community Paramedicine focuses on providing services, where access to care is limited, or a short term intervention is needed. By targeting locally identified health care needs, and offering a creative solution to fill local health care gaps, [Community Paramedicine] helps to increase access to care, and often reduces health care costs by providing the right level of care based on the individuals medical needs." (Source: Community Paramedicine Fact Sheet, California Emergency Medical Services Authority)
So what is community paramedicine? Paramedics with this additional training (EMT-P designation) operate under strict standards and procedures with clear medical control by a supervising physician as they respond to emergency situations and provide some medical transportation roles in the communities they serve. Community paramedics are experienced paramedics with additional training in patient assessment and familiarization with healthcare providers and social services that are available to the community they serve. The net result is a more direct, integrated and immediate approach to healthcare delivery in a community.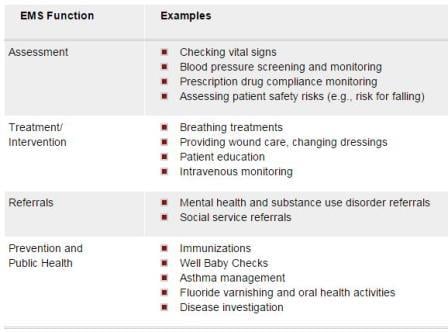 Chart source: Beyond 911: State and Community
Strategies for Expanding the Primary Care Role of First Responders, National Conference of State Legislatures, 2012
How does this impact insurance and benefits? Financing of community paramedicine services faces many hurdles, but there are several bright spots across the country and on the federal level. Several states (Minnesota, Maine, and Colorado) have passed legislation to allow reimbursement for these services under insurance plans. On the federal level, Medicaid doesn't currently recognize community paramedic services for reimbursement, but alignment to value-based medicine and a patient centered medical home model may allow for alignment of these services in the future. If the states and federal government can come into alignment and allow reimbursement for community paramedicine services, insurance companies will align policies to allow this service. If provider organizations adopt community paramedicine as part of a commitment to value-based medicine and patient-centered medical homes, they will be able to provide more direct, local care, in a timely fashion at a lower cost. With 10,000 baby boomers turning 65 every day and millions of previously uninsured joining the insured ranks, primary care is a focus in the provision of health care now and for many years to come. Community paramedicine is a primary care force multiplier that makes sense.
The National Conference of State Legislatures summarizes the need for community paramedicine by stating "Using community paramedics to deliver basic primary care offers unique opportunities to reduce emergency room contact and improve health outcomes for underserved patients.  As policymakers consider their role within this workforce shift, they will benefit from the experiences of community paramedic pilot programs. Emerging data on cost and quality outcomes will help policymakers and payers assess the impact of these interventions on health care costs and individual and community health.  Policymakers can play an important role in ensuring that these coordinate public and private resources, track health care and cost outcomes, and foster innovation while also protecting patient health and safety."